Road Trip along the Amalfi Coast in Italy
This road was constructed by the Romans and starts at Sorrento and ending at Amalfi. The whole stretch is 80 kilometers and is most suitable for a road trip in the middle of September to October as well as the month of May because tourist numbers are usually low. This is the time when you can enjoy free space on the roads as well as the best views of the landscape.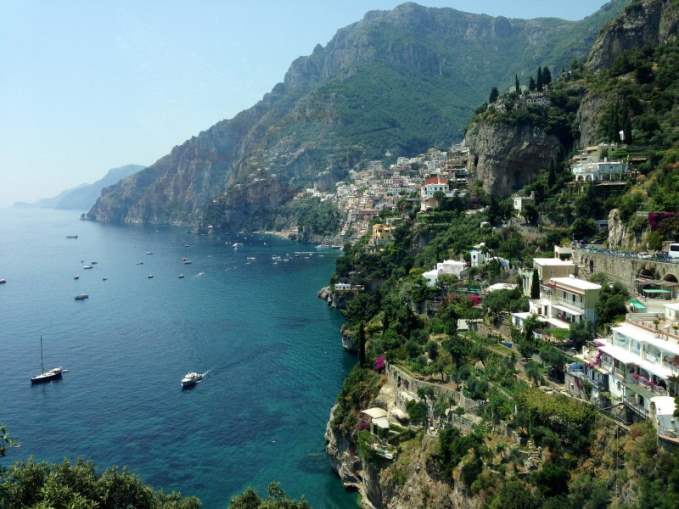 The road has a lot of bends and is narrow in many sections but that does not compromise in any way the type of scenic views you have of the sea.
Taking a Guided Tour
There is no reason to struggle with your road trip in case the Amalfi Coast is new to you. There are many guided tours that will help you out and enhance the experience that you end up having. A full-day guided tour will start at Sorrento and take a maximum of eight hours. All that time, you will have spectacular views of the rolling hills and charming towns. The guide you will be given is expertly trained while the car is well conditioned to make you comfortable. You will only be required to sit back, relax and enjoy one of the best rides in your lifetime.
You will join the road right from Sorrento and your first stop will be at Positano Town which is scenic and has a road that descends all the way to the sea. You can take photographs of the town with special attention to the waterfall that cascades the rocks right to the sea. It will be a good memento for remembering your road trip. Within an hour time, you will be arriving at Amalfi and taking like two hours there will be enough to tour key attractions like the 9th Century Cathedral. There are also many coffee shops to visit while a boat tour will not be bad idea at the sea but subject to good weather conditions.
After your time is over, head to Scala where you will have the opportunity of having lunch and then proceed to Ravello. 11th century Cathedral will be the main attraction sight at this small town which you can explore. Don't leave this place without touring Villa Rufolo which has beautifully designed gardens for the best views. You can now start your journey back to Sorrento having exhausted all your activities and time running out. Pass through the Castellammare hills but don't spend a lot of time there not to be late on the way. Take note that your full-day guided tour will be minus lunch and entrance fees to any of the attraction sights you visit.
Key Travelling Information
Your road trip has to be properly planned in advance if you are keen on getting the best experience out of it. You will never get frustrated during your trip along the Amalfi Coast because views of the coastline will be fantastic. When there, choose to use public means of transport because it is affordable and efficient for tourists. There are different companies offering buses for transport and you should strive to secure the best deal. Small busses ply through small towns while big busses will cover the entire route.
SITA is the most popular bus company that operates along the route and is the best because it completes the whole stretch. The speed that your bus will move at and the time taken on the road will all be dependent on the state of traffic. If the traffic is very tight you can spend hours, but moving traffic will take you minutes to reach your destination. For those people who want to sightsee without speed, traffic jams will be a least concern. In any case, taking a bus for your trip along the Amalfi Coast comes with comfort so it must be top among your considerations.
It will even be more suitable if you have carried many people along for the trip. SITA is the most preferred bus company because their drivers are well trained and their services are fully professional. You will not regret engaging them for your road trip purposes. Before you get onto the bus to start the road trip, make sure the following things have been checked and crosschecked for surety. Tickets are mostly bought in advance so don't wait to do that once you are already inside the bus. Nobody will come round selling as it's your responsibility to source for the tickets. In any case, you will not be allowed to get in without a ticket.
You can buy the tickets from any shop or caffe bars displaying the official SITA logo. Those are the places authorized to make ticket sales so don't go anywhere else where fake tickets are on sale. It is mandatory for all passengers using SITA buses to stamp their tickets before entering the bus. This is done at the entrance where there is a machine for that. You will risk paying a fine in case you ignore this step so be very keen on what you do. Some of these rules might appear simple and harmless to you but have the capacity to harm your road trip experience for the worse.
If you feel like a bus is not suitable for your road trip then there is the other option of hiring a car. However, you must be well aware that it is not the easiest and most enjoyable way to drive in this southern part of Italy. The Amalfi Coast roads are not very wide and are cliff-hanging which can be scary, thus all drivers here are not fearful. The drive will be a bit challenging especially to new drivers who are not used to the route. Fortunately enough, most of the attractions along the road are easily accessible with a car. Alternatively, go for scooters which are used for transport as well along the road but precision is vital as a driver.
Photos of the Amalfi Coast