Road Trip along Maui's Hana Coast
This will definitely be one of your greatest road trips of your lifetime. The road stretches for 84 kilometers starting at Kahului all the way to Hana Town which will be the final destination.
Many drivers worry a lot when driving along this road because it is more of a cliff-hanger but you don't have to be concerned. There are many things on the way to bring fun and they include the Garden of Eden and Botanical Arboretum, Lower Puohokamoa Waterfall, Pua'a Ka'a State Park, Waianapanapa State Park and Wailua Falls. It will be a highly rewarding journey.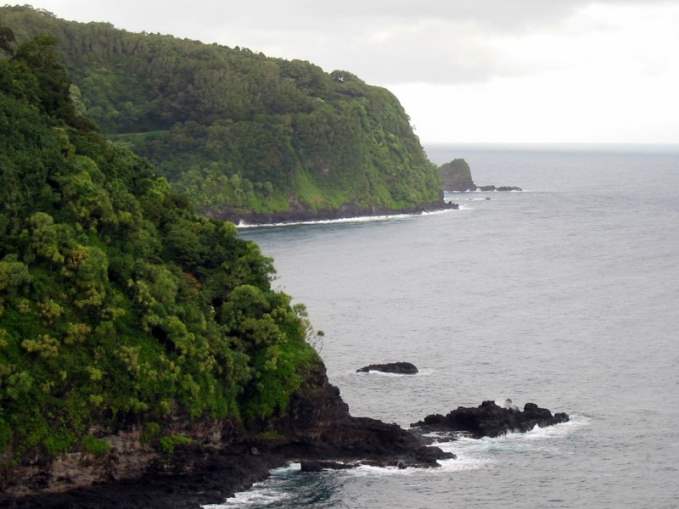 Key Attractions to See
Your experience will be comparable to none when driving along the road to Hana because attraction sights are in their numbers. The following are the few that you will definitely come across during your road trip.
Keanae Point - this is a diversion point from the main road and has some of the most stunning views of the Maui coastline.
Haneoo Road - you will find this road way past Hana town and it has the best views of Alau Island. The beautiful Hamoa Beach is located along this road which is well worth a visit. The u-shape of this road means that you will have it easy connecting back to the main highway.
Waianapanapa State Park - this place has the black sand beach and it is the best in Hawaii. You can't bypass it when on your road trip.
Wailua Falls - you will have good views right from the main road but it will not cost you anything going closer for quality views. If you have your car, there is ample parking space at the fall so nothing will stop you from making a stopover.
Waikani Falls - its presence underlines the importance of taking your road trip and making a stop at this point. There are many waterfalls that you will come across on this road but this one is exceptional. You will not have to worry a lot in getting the best views.
Planning your Road Trip
It will always be a nice idea if you begin preparations for your road trip along Maui's Hana Coast well in advance. You don't have to wait until you are at the starting point to start preparing as it will cause frustrations and inconveniences. Preparations will be different for locals and international tourists. If you are coming from other countries, you have a lot of logistics to put in place before embarking on your journey. Know when it's the right time of the year to visit, where you can sleep as well as eat. This is all important when it comes to budgeting.
Some people come along with packed food but it will not be necessary for you. There is a long line of eateries lined up along the road where delicious meals are served at affordable prices. You will be well sorted so don't bother coming along with packed food.
The road is full of attractions thus be prepared to take some wonderful photographs. Make sure your camera is in good working condition and well packed. There are many view stops along the route and it will only be good if you take full advantage of them. Capture all the memorable moments with your camera and it will help relieve your mind when you are through with your road trip. Traffic jams are very common on this route and it is something that you must be prepared for as you plan for the road trip. The traffic will tend to move slowly especially at the points where there is a single lane so you are called upon to have respectable road etiquette and exercise a lot of patience. To beat such traffic congestion, you are advised to start your road trip as early as possible before many vehicles get to the road.
If you are a new person to the road, you should avoid travelling at night because there are very sharp turns and dangerous twists that you will not be able to navigate easily under darkness.
Important Driving Tips
You need to have the best experience from your road trip along Maui's Hana Coast and these driving tips will help you out in a great way. Many of the private hire companies are always reluctant to have their cars drive beyond the Kipahulu region because it is not paved. You have to consider that when hiring one. Make sure the one you have hired will cover the full stretch of the road otherwise your road trip might not be complete. There are also some sections of the road that you are supposed to avoid and a rental company should be in a position of advising you accordingly.
It is very dangerous to drive along the unapproved sections of the road and don't expect to be stopped by anybody. You will be solely responsible for whatever happens to your car in case there is an accident or it has broken down. It will be a total risk taking move that is not necessary. There are driving guides offered by car hire companies that you can use to master the route very well. It will help you know where to go, the dangerous sections to avoid and the exact points where there are sharp bends.
It is equally important for you to make a decision on whether you want to drive alone or have a tour guide. If you are confident enough go alone but a guide will be necessary if you are new to the route. Naturally, the drive will be a bit boring if you are alone and sharing that experience with another person will be good. You can explore the place much better as a pair compared to when you are alone.
Photos of Maui's Hana Coast