Driving the Cabot Trail in Nova Scotia, Canada
This road trip in Canada has increasingly become popular as many trippers flock there annually to drive this route. You can cover the entire stretch of 298 km in a day but planning for up to four days will be ideal in making sure you enjoy it to the fullest. The landscape is generally scenic while cultural sites as well as hiking trails are available to make your experience a even better.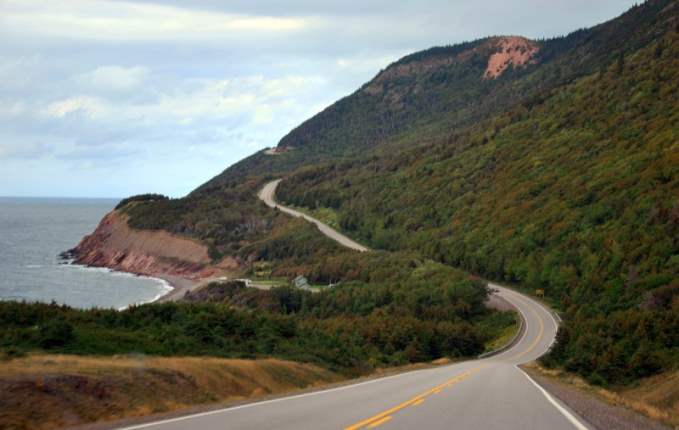 Guideline for driving through Cabot Trail
As a visitor, you need due guidance on how to explore this trail. It will help to deal with any possible confusions thus be on the lookout for a guide if you feel it's needed. Without one, it is possible to have a good road trip along the Cabot Trail if you are experienced. This guideline will help you out in case of any hitches.
Select the right direction - the looped nature of the Cabot Trail might be confusing for you in case you do not know the right direction to follow. Taking the clockwise direction will position you in the inner lane which is the most suitable for new drivers. This lane will take you directly to the Cape Breton Highlands National Park. The anti-clockwise direction is good for viewing the ocean views which are located along the road. This direction is not liked by many drivers because only fearless drivers use it. If you are fearful, keep off the anti-clockwise direction of Cabot Trail. The biggest advantage of driving in an anti-clockwise direction is that traffic moves very fast since few drivers use it. Regardless of the direction you choose, you cannot make a U-turn but the drive has to be completed so have that fact well in your mind.
Know the road very well - there is always the danger of causing an accident when driving on a road for the first time. This is because you will not be aware of the bends or hilly sections. When on this trail, you are advised to study it well and understand all the sections before getting ready for your trip. There are maps provided that you can use to understand the road that takes a maximum of five hours to complete. There are some sections where stopping is not allowed even if you want to have some lunch or see a certain attraction. You must know which such sections are so as not to do things in an awkward manner. There are speed limits for all sections of the road and they are clearly marked using posters. You will ignore them at your own peril because breaking traffic rules is one of the greatest offenses in Canada.
Mark out your stopovers - you will not have to stop in each and every section of the Cabot Trail. It has to be anywhere you have an interest in the attraction or a restaurant to have lunch and refreshments. It has been the trend for many visitors to consider making a stop at every section they reach but that leads to time wastage. To ensure you maximize your opportunities and time, have a prior plan on the exact places you will make stops and time to spend in each of them. Time management is very vital so never take chances. Common stops include hiking trails; Cheticamp which is a scenic village, Margaree Harbor, Pleasant Bay where whale-watching takes place and Ingonish to enjoy some water sports.
Be flexible - there is nothing that you can plan in this world and it works flawlessly. This will be the same case when planning your Cabot Trail road trip and it has to be well captured in your mind. Some of the things that you will include in your itinerary might turn out to be directly the opposite of that and allowing some margin of error and delays will cushion you from frustrations. For instance, you might have planned to stay for two days but the scenic landscape will eat up more time extending to even four days. Likewise, your budget might be strained and that will be very stressful in case you didn't have a fallback plan. That is why you are supposed to be flexible so you can easily accept any such unprecedented changes.
Notable Attractions
Whale watching - this is a key attraction that will catch your attention whenever on the Cabot Trail. There are many species of whales you will have the privilege of watching so take your time.
Timmons Folk Art Studio - all the artistic works at this place are hand crafted and wood is the main raw material.
Gampo Abbey - this is a Buddhist Monastery where guided tours are offered to visitors keen on learning about their culture. Inside this place, you will get a monument that is dedicated to peace in the world.
Outdoor Adventures
Among the many things you will enjoy on the Cabot Trail are outdoor adventures and they are fun-packed. Make sure you have chosen the ideal one for your maximum satisfaction.
Hiking - hiking goes with seasons so you must choose a hiking trail that matches well with the weather conditions. This is an activity that you will find worthy sparing some time to enjoy. For maximum fun, you must be fit enough because the terrains are not easy.
Cycling - you should always take a route that does not compromise your fitness levels as well as weather conditions. Some of the cycling options that you will come across include and not limited to rental packages, shuttle services and guided tours. However, these will differ from one service provider to another.
Kayaking - you have to try this out even if it's not your favorite recreational activity. They have enough fun that you will feel incomplete without experience them. You can choose a half-day introductory or intermediate tours which are the most common with many local providers. There are many others that you will get to consider so don't limit your options to the only two.
Photos of the Cabot Trail