13 Tips on How to Backpack Like a Pro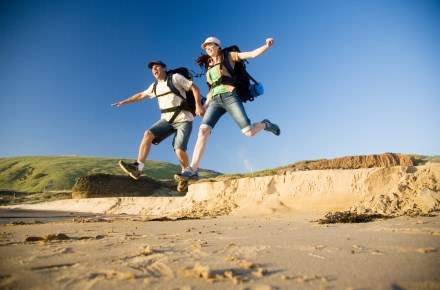 Backpacking is an extremely liberating way to travel—you get to visit a lot of places for a fraction of the price of luxurious traveling, and you get to travel light. However, some people are discouraged by the idea that backpacking is inconvenient or difficult. Here are some tips to ace your backpacking trips—even if you are doing it for the first time!
1. Learn how to sleep almost everywhere. Earplugs and eye masks will be your best friends when you want to catch some z's on the bus, train, boat, or plane. Over-the-counter sleeping meds are also great, and there are herbal or natural varieties available as well. Hoodies, light scarves, and sunglasses are perfect for stealth snoozing (if you do not want it to be obvious that you are, in fact, deep in slumber).
2. Sign up for a cloud drive service to back up your photos or documents while on the go. Just be sure to have a device (a smartphone or a lightweight tablet) to access your files whenever you are traveling.
3. The local grocers are perfect for some unusual souvenirs. Instead of getting your friends back home little keychains in the likeness of some local landmark, get them non-perishable items (that are allowed through customs). Local newspapers are great and unique wrapping materials, too.
4. Use all the available space in your backpack—stuff fragile items inside your shoes, roll your clothes, et cetera.
5. Put a piece of plastic over the top of bottles and screw the cap back in to prevent any unnecessary spillage. Ziploc bags are a great idea, too.
6. Pens might not withstand the pressure inside an aircraft, so you might want to put them in a compartment that would prevent the ink from staining your clothes.
7. Do not skip out on a night's sleep just to "sleep better" in a long flight. Chances are you will not get some sleep on the plane and end up being awake for two consecutive nights instead of one.
8. Make sure to scan your passport and important travel documents (visas, tickets, etc.) before leaving home. Email them to your own address or to a family member / friend to have a back-up of your documents.
9. When you go through border control or immigrations, make sure that you have a physical copy of your return ticket. There will be instances when the border official will ask for them.
10. Write down your accommodation details—more often than not, this information is required on your landing card. You also might need the directions to this certain address and cannot pronounce the name of your hostel.
11. Get a good carabineer / bungee cord to secure your backpack on the luggage rack of a bus or train, so you do not need to feel anxious whenever the vehicle halts to a stop.
12. Bring along a travel-sized hand sanitizer, toilet seat covers, and a travel pack of tissues for your bathroom visits.
13. "Hello," "please," "thank you," "excuse me," and "bathroom" are words that you might want to learn in the local language. They will take you a long way.